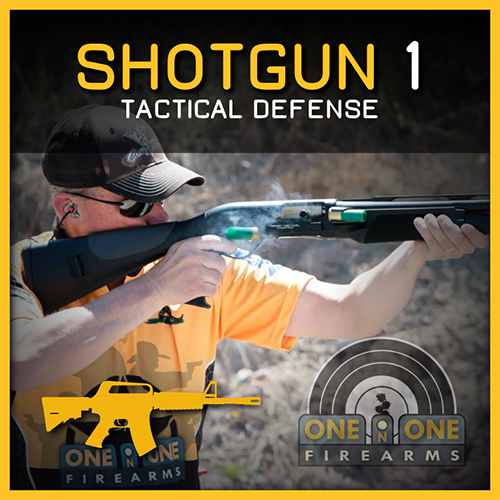 SHOTGUN 1 - TACTICAL DEFENSE | OCT 10TH RANGE 2-1
SKU 00778
Product Details
COURSE DESCRIPTION
It's dangerous to assume than you simply purchase your shotgun, place it in the closet, and then tell yourself that you'll be ready when you hear the "bump in the night." There are effective and proven means to evaluate your shooting technique, learn and practice new techniques', and elevate your game. It's called TRAINING! At ONE on ONE Firearms, our world revolves around shooting. Over the years and the hundreds of classes we've taught, our curriculum has evolved into a streamlined system. In a short period of time, new shooters can go from having almost ZERO shotgun skills, to a level of competence far beyond the skill level of the average shooting enthusiast. That's not to say the experienced shooter can't benefit from this class. It can be a great opportunity to validate your current technique, identifying any bad habits or training scars that you might have developed over the years. We can help any shooter make the transition to a more efficient and effective modern shooting technique.
---
COURSE OVERVIEW

COURSE LENGTH: 1-Day course 8:00A – 4:00P

COST: $175
Range fees of $18 are the responsibility of the student, and can be paid directly to your Instructor on range day.

COURSE OPEN TO: Open to anyone, at any skill level, and ability.

Items Covered in This Class:
Shotgun design, nomenclature, action types and selection for home defense.

Loading and Unloading

Reloading (Tactical, Emergency and Select)

Malfunction clearance
Patterning your shotgun and choke selection
Ammunition selection
Moving and shooting with an long gun

Multiple target engagement

Precision shooting with a shotgun

Use of cover and concealment in your home
---
GEAR & OTHER ITEMS

Students should bring the following items to this course.
Pump or Semi-Auto Shotgun, 12 or 20 Ga (If you don't have a shotgun contact us about renting one for class.)
Range Fee paid to the Folsom Shooting Club
Eye protection
Ear protection (I highly recommend electronic hearing protection. Contact me for quality inexpensive recommendations)
150 rounds birdshot (#7 - #9 lead target loads), 25 buckshot and 5 slugs appropriate for your shotgun
Ammo pouch, dump bag, shell caddies or even cargo pants with large pockets etc.
Comfort items like food, beverages, sunscreen, seasonal clothing, chair etc
Clothing appropriate for a RAIN or SHINE, outdoor, dirt surface range
Sunscreen
A hat
A great attitude!
---
LOGISTICS
LOCATION: Sacramento Valley Shooting Center – 15501 Meiss Rd. Sloughhouse, CA 95683

TIME: 8:00A-4:00P
DIRECTIONS:

The map shown below is for reference only. Often GPS and maps get directions to this facility wrong! Please refer to directions on getting to the range on the SAC VALLEY SHOOTING CENTER website athttp://www.sacvalley.org/contact.html.
Save this product for later