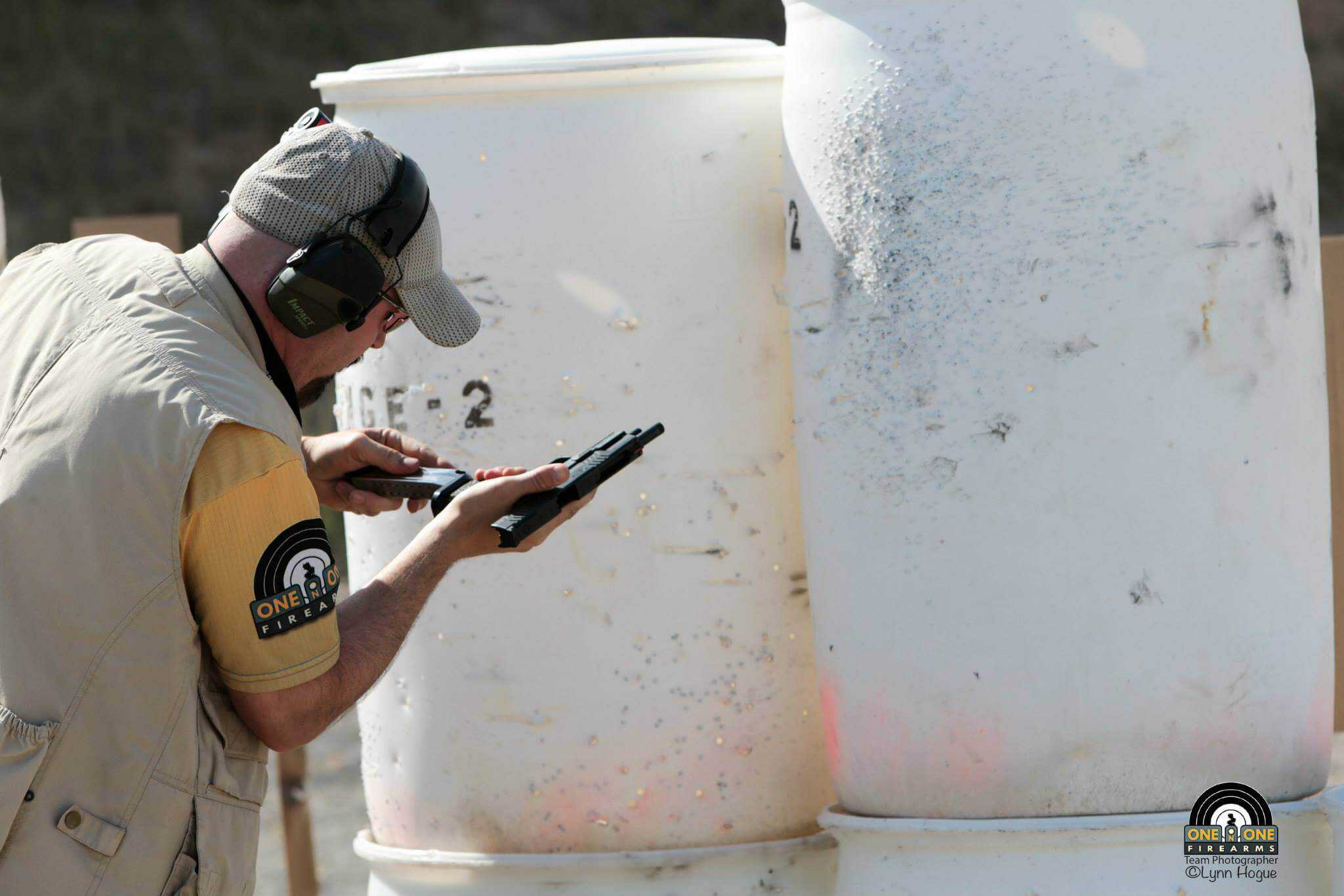 Advanced Tactical Handgun Course June 22-23
ONE on ONE Firearms is offering our top-rated Advanced Tactical Handgun course at the Sacramento Valley Shooting Center on June 22-23, 2019. There are limited spots available for this class! This is ONE on ONE Firearms pinnacle handgun class, building on the handgun learning blocks students have learned with us during earlier classes. This 2-day course will allow students to experience advanced handgun techniques and shooting positions. The focus of the class revolved around scenario-based skill development. What if you get injured and can only shoot one-handed? What if your attacker knocks you to the ground? What if you get carjacked? Students who successfully complete this class will leave with practical shooting experience in all these scenarios, and more…  
As of today, there are only 4 slots available for this incredibly important class! Students will be performing complex shooting drills and scenarios. This class is always taught in a "small class" environment, with multiple instructors present, ensuring a safe, fun, and informative learning environment.  Book your space in class today!
COURSE OVERVIEW
COURSE LENGTH: 2-Day course 8:00A – 4:30P each day.
COST: $350.00
Range fees of $16 per-day are the responsibility of the student, and can be paid directly to your Instructor on range day. 
COURSE OPEN TO: You must have successfully completed our Handgun 2 class. We will consider substitution on a case by case basis. The could include having verifiable IDPA, USPSA or 3-gun completion experience or training with nationally recognized instructors. We have to be familiar with their class curriculum!
Items Covered in This Course
EQUIPMENT SELECTION

RELOADING (TACTICAL and EMERGENCY)

MALFUNCTION CLEARANCES

PRECISION SHOOTING OUT TO 50 YARDS

RELATIVE ACCURACY CONCEPTS

GRIP AND STANCE

ONE-HANDED SHOOTING

RAPID, SINGLE AND MULTIPLE SHOTS

MOVING AND SHOOTING

MULTIPLE TARGET ENGAGEMENT

SHOOTING FROM COVER

SHOOT – NO SHOOT DECISIONS

AMMUNITION SELECTION

COGNITIVE SHOOTING DRILLS

OFF LINE MOVEMENT

POST GUNFIGHT PRIORITIES